Project Profile: Walkway Upgrade Improves Safety at Ronald McDonald House Charities in Phoenix
---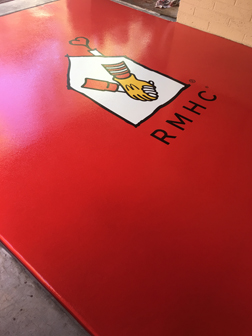 Background
Ronald McDonald House Charities – which helps families with children facing medical challenges – was in need of a new walkway at one of its Phoenix homes. This is a place where families stay during their child's illness or injury so they can be close to the hospital or healthcare facility during a great time of need. The existing walkway connecting the main entrance of the temporary housing to the community kitchen, dining room and facility was significantly damaged and created a trip hazard due to failing epoxy. Up to 45 families travel this walkway each day.
Contractor
AllCoat Surfacing Technologies helps homeowners and businesses in the Phoenix-metro area beautify, protect and preserve their floors, indoor and out. AllCoat was approached by a local supporter of Ronald McDonald House Charities, and gladly accepted the renovation due to the organization's vital work in the community.
Installation
The walkway was diamond ground with AllCoat's HTC grinding machine to level the cracks, remove the failing epoxy and create a surface for the following system from Super-Krete® Products:
SK-E100 (one coat) – a two-component, water-based epoxy system that features ease of application, very low odor and excellent overall coating performance.
SK – E400 (two coats, the Ronald McDonald House Charities Logo was applied after the second coat) – a low viscosity, 100% solids resin system used in a variety of flooring applications including high build coatings, aggregate-filled flooring and decorative epoxy pebble applications.
SK – P100 (one coat) – a two-component, high solids aliphatic polyurethane offering a remarkable combination of performance properties not found in other polymer coatings. It produces protective films which are hard, flexible and very impact resistant. These coatings feature high abrasion and scratch resistance, exterior durability, easy soil release and excellent resistance to a broad range of chemicals.
Outcome
The organization and residents are thrilled with the new walkway. Not only is it more attractive, but it's safer for all of the families who pass by daily.
"Quality results start with superior planning, superior preparation and superior products. I have used APF products since 1998 for my businesses, past and present. Deena and I would like to thank Daniel Owen, his family and his company for years of support and quality products."
Brad and Deena Kieler
AllCoat Surfacing Technologies, Inc. / PremierGarage Specialties