Packaging Upgrade Announcement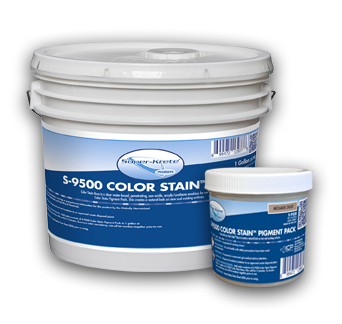 In our efforts to continue innovating within the concrete industry, we are excited to introduce the improved packaging of our popular Super-Krete® Products S-9500 Color Stain™ series.
While this safer alternative to acid stains will continue to offer a beautiful, translucent appearance with exceptional UV resistance for interior and exterior applications, the finest concrete stain with more than 30 years of unmatched performance now offers these additional benefits:
Reduced pigment settlement
Improved color consistency
Allows for custom tinting
Ability to create antiqued, marbled and mottling effects with ease
New packaging to reduce the inventory demand to the distributor
Our new packaging program will be a combination of the S-9500 Color Stain Base and a S-9500 Color Stain Pigment Pack, which is available in all 20 of the traditional Super-Krete colors. One S-9500 Color Stain Pigment Pack is added to each gallon of S-9500 Color Stain Base prior to use.
For best results, follow these detailed mixing instructions:
1. Ensure the lid on the S-9500 Pigment Pack is tightly sealed.
2. Shake the pigment pack until a uniform color is achieved.
3. Empty S-9500 Color Stain Base into a larger container for easy mixing.
4. Add entire contents of pigment pack to S-9500 Color Stain Base (one pigment pack per gallon of S-9500 Color Stain Base).
Scrape all sides of the pigment pack to ensure all contents have been removed.
5. Mix S-9500 Color Stain Base and pigment pack with a drill and appropriate mixing paddle for two minutes.
6. If applying by sprayer, strain S-9500 Color Stain prior to filling sprayer reservoir.