Christ Greenfield Lutheran Church Upgrades Flooring Overnight with S-5000 Cem-Dye®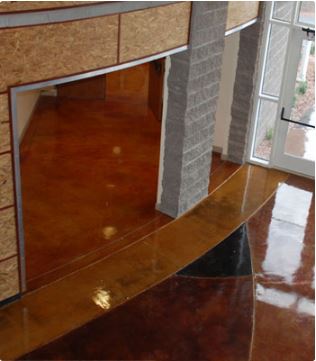 Adobe Coatings was brought in by Concord General Contracting to produce the artfully applied flooring for Christ Greenfield Lutheran Church. Originally, the spec for this job required acid staining throughout the entire facility, but the raised balconies posed a problem. The concern was that the acid stain would leach residue onto the floors below. The second challenge was that the project needed to be completed during a period of time that other contractors were working on the site. This meant that most of the work needed to be done at night.
Adobe Coatings worked with Arizona Polymer Flooring to determine the best solution to overcome these two issues. This led to the decision to use Super-Krete's S-5000 Cem-Dye® systems in the areas with raised balconies. The benefits of the dye were less mess and less clean up. Working with S-5000 Cem-Dye® also allowed Adobe to stain and seal in one night with both coats of sealer done before people returned for work the next day.
Ultimately, Adobe Coatings was able to create a very striking and attractive floor for this church project.