Project Profile: Fast Cure Polyaspartics Help Sports Bar Achieve Sleek Look with Tight Turnaround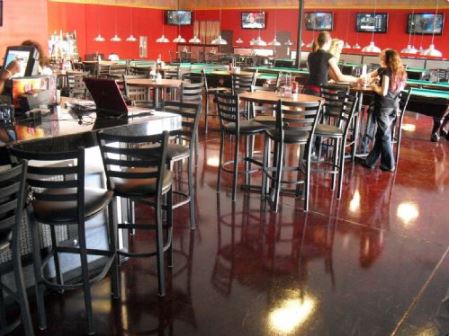 Challenge: With a grand opening on the horizon, the team at Cactus Moon Sports Grill in Mesa, Arizona wanted a sleek, high gloss finished floor to complete the overall look. However, by the time they contacted Quality Epoxy, they were already behind their scheduled opening date. That meant the new floor system would need to be up and running very quickly – and it would need to look flawless. The last thing the owner wanted was to shut down the bar to re-finish the floor after the big opening.
Contractor: Quality Epoxy has served as a specialized, resin-based epoxy flooring contractor in the Phoenix area since 2000. Services include protective coatings and our Granitex chip flooring systems for residential and commercial application.


Solution: Quality Epoxy suggested a fast cure polyaspartic system that would greatly decrease the necessary downtime. Concretizen was sub-contracted to address the color and acid staining portions of the job. The bar owner left stain colors up to Concretizen, allowing the company to showcase its artistic expertise. The entire 16,000 sq. ft. floor was a custom acid stained system that consisted of our S-4000 Acid Stain product. Next, a coat of our SK-P250 was applied. Lastly, a top coat of SK-P5000 was put down to seal and finish the floor. The floor was fully cured within 24 hours, and the grand opening went off without a hitch.