Avoid These Common Mistakes When Installing a Vinyl Chip Flooring System
---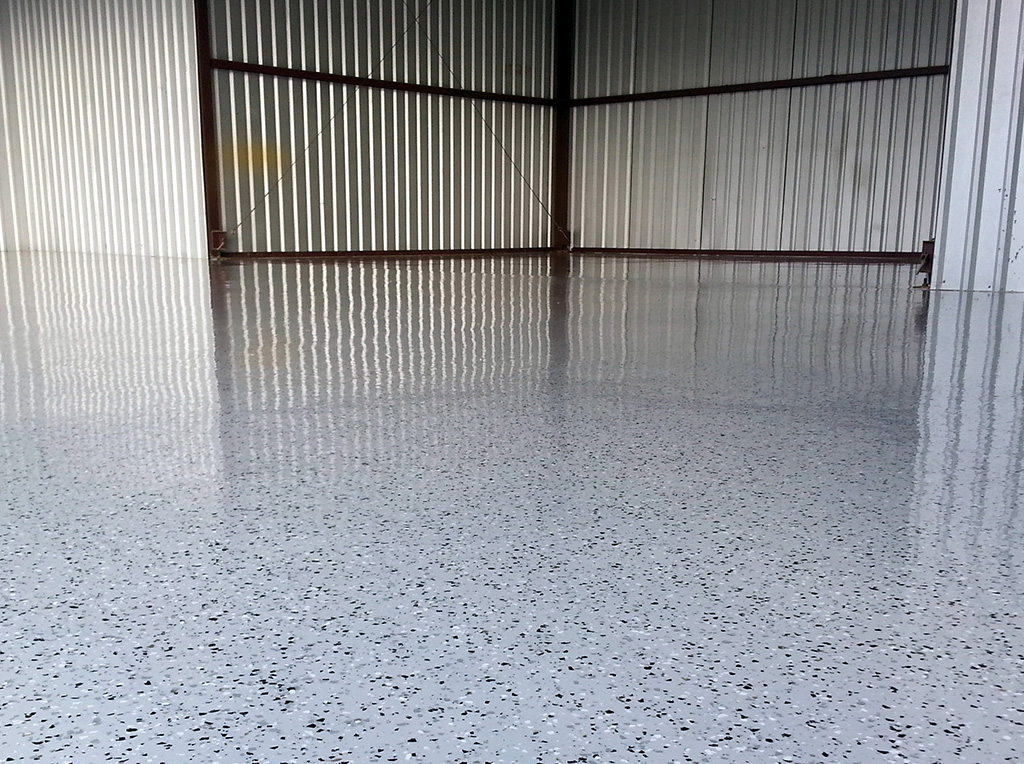 There are typically two types for vinyl chip flooring systems: full broadcast and light broadcast. The colors and size of the chips can vary, depending on the final look and functionality you aim to achieve.
Our Granitex Flooring Systems consist of multi-colored vinyl chips embedded in a pigmented basecoat and sealed with successive coats of clear. The clear, abrasion-resistant polyurethane coats produce a tough, easy-to-clean surface.
Vinyl chip flooring can be long lasting, durable and beautiful – as long as you avoid these common mistakes, especially as they relate to preparing the substrate.
Common Mistakes with Light Broadcast Vinyl Chip Flooring
Exposed Epoxies: A common mistake is the use of exposed epoxies in a light chip application, meaning that the light chip application process exposes the coat receiving the epoxy because less chip is used to cover the floor. Since most epoxies are not UV stable and will chalk and discolor when exposed to UV light, epoxy would not be recommended. Also, the use of high solids epoxy will cause the chip to curl as the chips settle into the epoxy, especially when using larger chip. So, to avoid this from happening, use a UV-stable pigmented polyurethane receiver coat, such as SK-P100 Pigmented.
Chip Application: Another common mistake is the application of the chips in a light broadcast system when trying to achieve 10% to 75% chip coverage. When applying the vinyl chips into the polyurethane, it is important to spread the vinyl chips as evenly as possible. To accomplish this, it is always a good idea to throw a small amount of chips into the air and allow them to fall into place. Trying to sprinkle a large hand full of chips will cause inconsistencies in the finish product. Too much in one area and not enough in another.
Rollover Lines: Lastly, it's important to take care with the application of the clear polyurethane coat, such as SK-P100. To avoid roller lines and overlap lines, the rate of application is very important. Correct coverage will alleviate this problem. Refer to manufactures application instructions or data sheets for coverage rates.
Common Mistakes with Full Broadcast Vinyl Chip Flooring
Full broadcast is the most common type of vinyl chip application. Again, preparation of the substrate being the most important for adhesion. We suggest using a high solids epoxy, such as SK-E550 Pigmented, as the receiver coat for the vinyl chip to apply the coating because it will be completely covered in chips. With this method, there isn't a need for UV stability. It is important to know that high solid epoxy has a very short pot life, so get it out the bucket and get it on the floor immediately after mixing.
Estimating Chips: A common mistake in this application is under estimating the amount of chips needed to completely cover the floor, which can leave bare spots and too much bleed through. When applying the vinyl chips, be sure to have enough vinyl chips for full coverage (0.12 pounds per square foot for 1/4-inch vinyl chips and 0.15 pounds per square foot for 1/8-inch vinyl chips). Since bleed through can happen, be sure to use an epoxy pigmented that closely matches one of the vinyl chips. Also take care to completely cover the floor with vinyl chips. If you see light spots or bleed through, add more chips. It's much easier apply during this stage than when applying the clear coats.
Binder Coats: After your vinyl chip floor is dry, scraped and cleaned, you're ready to apply the clear (don't make the mistake and decide to cut corners). It is always a good idea to apply a binder coat over the vinyl chips. We recommend Cem-Seal Clear with UV exposure, or SK-E400 Clear for interior applications. Applying a polyurethane coating directly to a full broadcast vinyl chip floor will leave the vinyl chips sharp, rough and dry looking, and the customer will more than likely want another coat to smooth it out.
Remember that quality products and application make for happy customers. Happy customers are great for business, so do it right the first time and eliminate the go backs that cost you time and money.