How to Create a Game Plan for Your Next Project
---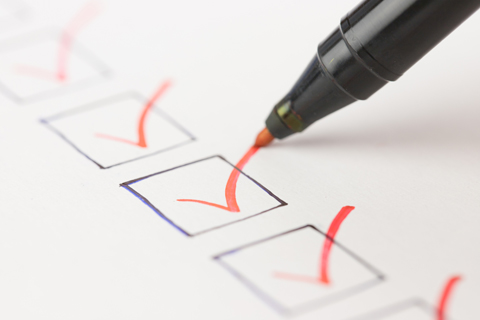 It's often said that preparation is the key to success. That notion couldn't be more true with decorative concrete. All projects – large and small – need a game plan. We recommend your game plan includes the following:
Checklists
What's a game plan without a checklist? I'm a big fan of physical checklists because they keep you on task and organized.
While many of your projects will require the same tools and materials, it's often the little (yet critical) things that get overlooked and slow you down. For instance, how many times have you had to run to the hardware store in the middle of a project to grab a roll of tape? Or purchase another extension cord when you have too many to count back at the shop? A checklist can significantly reduce those last-minute hardware trips. If you do end up forgetting something that wasn't on the list, be sure to add it next time.
It's also a good idea to have more material on hand than is required for the project. Sticking to a 10% rule of excess material will prevent you from running short. This is also the case for your replenishables, such as tape and plastic for masking.
Escape Route
Map out your application from start to finish to avoid painting yourself into a corner. You'll need an exit strategy and access to all of your resources throughout each phase of the project, including tools, materials, a water source and power source.
An escape route is especially important with interior applications where you might be restricted to one way in and one way out. Exterior projects may be more forgiving, but make sure you can access water and a power source at all times.
Start and Stop Points
Depending on the size of your project, you might be unable to complete an entire area all in one shot. If this is the case, make sure you plan on where you will start and stop. Upon the project's completion, you don't want a visible reminder of where you ran out of material, or where you finished one day and started the next. Even masking an area could result in a noticeable line across the floor. Be sure to stop at cold joints or expansion joints. This will make the transition from day-to-day or batch-to-batch almost impossible to notice.
Want some guidance on a game plan for your next project? Contact us for a checklist review. We also cover this topic extensively during our hands-on Super-Krete® Products trainings.