Project Profile: Creative Leather Headquarters Upgrades Headquarters with Durable, Decorative Flooring System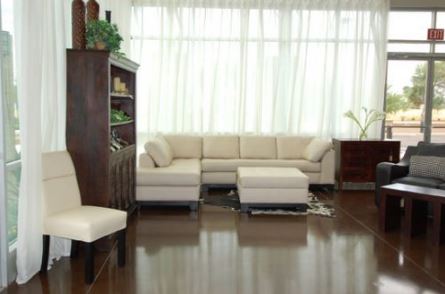 Background: For more than two decades, Creative Leather has handcrafted fine leather furniture using traditional furniture-making techniques.The retailer/designer has locations throughout the Southwest and recently expanded its headquarters to a larger facility in Chandler, AZ.
Contractor: Concretizen, based in Apache Junction, AZ, is a leader in decorative concrete. It combines highly artistic and customized designs with functionality. Commercial and residential services include: staining, overlayments, stucco staining, resurfacing, polishing, sandblasting, stamping, texturing, engraving and countertops.
The Project: For this new construction project, Creative Leather was seeking a cost-effective, custom decorative floor with superior durability. Concretizen decided to utilize a Super-Krete® Products system containing S-8400 Supra-Seal™ Plus, S-4000 Acid Stain and S-5000 Cem-Dye® water soluble dyes.
"This system combination is one of the most economical methods to produce a beautiful floor as opposed to an overlayment or stamped concrete," said Dana Boyer, owner of Concretizen.
The first step in the process required diamond grinding in order to open up the pores so the acid stains and dyes could penetrate using an 80-100 grit profile. Acid Stain was then applied in Cola and Vintage Umber in varying degrees of dilution. Next, Cem-Dye Coffee was diluted and added to create a mottling effect. (Often, diamond grinding exposes all the aggregate, which can result in uneven staining. This can be combated by applying dyes over the stain to add more depth and tonal range.) The floor was subsequently sealed with three coats of APF Acryseal. Wax was applied for additional gloss and sacrificial protection.
The finishing touches included flattoo artwork from SurfaceGel Tek with artistic applications and copper leaf lettering to accent the company name. The end result is a beautifully customized and durable floor that proudly represents the Creative Leather corporate headquarters.
"I don't always do conventional decorative concrete floors. I like to push the boundaries and think outside of the box," said Boyer. "I've come to realize that APF has unparalleled customer service and is always willing to work with me on new ideas and avant-garde projects."
Learn More: S-8400 Supra-Seal™ Plus, S-5000 Cem-Dye®, S-4000 Acid Stain